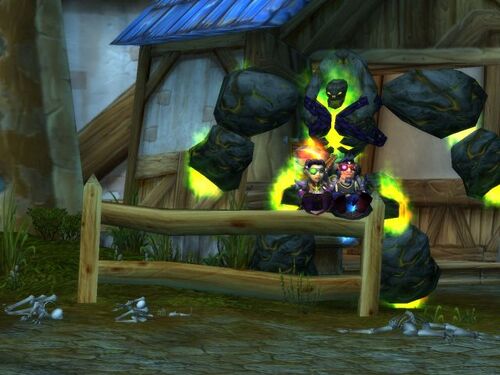 The Darkfizzle fence is the fence directly in front of the Lion's pride inn of Goldshire. Rigley (Reviler) claimed this fence as his own, seemingly with no real purpose. It's unremarkable in appearance, except for a scorch mark or two, and curiously, the name "Daaru" carved into it.
The Darkfizzle fence is where Rigley's wife, Marixserin, would normally wait for him to return from fighting in such places as Molten Core or Blackwing Lair. Not surprisingly, whenever you can see Rigley and his daughter Riely in Goldshire, it's usually atop that very fence, apparently very comfortable for gnomes to sit on. Rigley only let's certain people sit on the fence, as does his daughter, normally reserved for friends (or someone he's simply talking with) or fellow gnomes. Sitting on the Darkfizzle fence without either of their approval generally causes him to scream obscenities and summon infernals.
To this day, Rigley and his daughter continue to defend this fence, as if they have nothing else (excluding each other) that they would rather protect.
Ad blocker interference detected!
Wikia is a free-to-use site that makes money from advertising. We have a modified experience for viewers using ad blockers

Wikia is not accessible if you've made further modifications. Remove the custom ad blocker rule(s) and the page will load as expected.